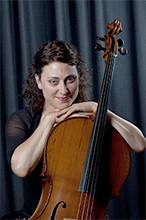 My teaching experience is rich and varied, and I work with students from diverse backgrounds and with a range of music levels, ages and instruments. I have over 20 years of instructional experience in the classroom, with private students, as chamber music coach, orchestra conductor and in educational outreach workshops.
Currently I teach elementary music with a focus on strings in Oakland Unified School District. I also teach chamber ensembles from Classical to Jazz to original and arranged compositions at Las Positas College in Livermore, CA. Previous teaching positions include:
Piedmont Unified School District * Ross Valley School District, Fairfax and San Anselmo, CA * College of Marin, Kentfield, CA * San Francisco Unified School District * Community Music Center, San Francisco * Various Bay Area classes for strings, voice and class improvisation* Los Angeles Unified School District
As a teaching artist with San Francisco Symphony's Adventures in Music I led musical outreach programs in San Francisco Unified School District elementary schools.  With Real Vocal String Quartet, I led string improvisation workshops at University of Delaware, Cal Poly Pomona, Eastern Illinois University, Colorado Mountain Colleges, and at American String Teachers Association Conferences.
Read my article in Strings about teaching: "BACK TO SCHOOL – Learning to teach well required more than just my performance experience."
---
"Jessica is a beautiful cellist. She is extremely diverse in her stylistic abilities, but is also an expressive and accomplished classical player.She is a gifted communicator and has a natural and innate sense of music."
---
"Jessica makes what seems impossible to do, very possible. She is an excellent observer, there's not much that she misses, and she is careful to illustrate what a piece of music is about as well as understanding the era from which it comes. I think she is profoundly musical and aware of what is going on around her."
---
"I think it is most important that educators bring their classical backgrounds into the real world, and Jessica is a great example of this. Her enthusiasm for everything from classical to cutting edge is a strong and positive influence on her many students."
---
"Jess is also a great teacher – together we have taught improvisation workshops together as well as given educational performances for children. In both cases, her attention to detail makes our workshops and performances better – she makes sure the concepts we present are tied together to a theme, and that our wording is clear and concise."
---
"To me, she is a true 21st Century musician, one who is technically accomplished, versatile, eclectic in taste, collaborative, and passionate about being an ambassador for music and engaging fully with a diverse audience."
---
---